Jaime Reviews ~ The Queen B* Strikes Back (The Queen B* 2) by Crista McHugh ~ Blog Tour Review and Giveaway!
Published on September 29,2015
Published by: Crista McHugh
Source: Rockstar PR
Alexis Wyndham isn't quite sure what to think about her "friendship" with star quarterback, Brett Pederson. Sure, he has more brains than the entire football team combined. Not to mention that fact he's a great kisser. When he asks her to help him with his college admission essay, she isn't sure if he's doing it to spend more time with her or if he's just using her for her intelligence. But after her nemesis, Summer Hoyt, makes it clear she's not finished chasing after Brett, the war is on, and the head cheerleader will find out that hell hath no fury like a Queen B*.
Goodreads | B&N | Amazon | Kobo | iTunes | Google Play
About Book One...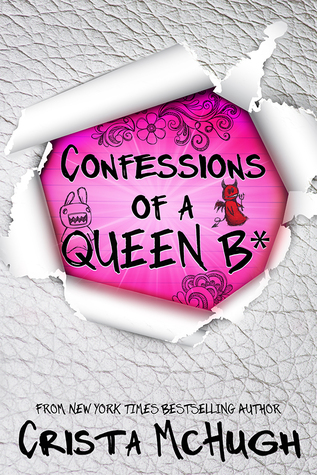 After years of being the subject of ridicule, she revels in her ability to make the in-crowd cower via the exposés on her blog, The Eastline Spy. Now that she's carved out her place in the high school hierarchy, she uses her position to help the unpopular kids walking the hallways.
*Saving a freshman from bullies? Check.
*Swapping insults with the head cheerleader? Check.
*Falling for the star quarterback? So not a part of her plan.
But when Brett offers to help her solve the mystery of who's posting X-rated videos from the girls' locker room, she'll have to swallow her pride and learn to see past the high school stereotypes she's never questioned—until now.
My Thoughts...
I must admit that I was a little surprised at myself when I signed up for the blog tour of Confessions. It isn't the type of book I gravitate towards frequently, but sometimes I need a good laugh and I thought it would have the potential. And it absolutely did make me laugh. Maybe swoon a bit. Definitely cringe! Anyway, when I received the email to sign up for the tours for this sequel and the final book, I had no choice. I am so hooked on this series, and I hope I can get a few others hooked on it too!
The Queen B* Strikes Back starts the morning after Confessions ends. Alexis is wondering if she made a horrible choice, telling Brett she just wants to be his friend. And it doesn't help when he shows up at her house, early in the morning, and carries her caveman style out of her house and drags her to a school sponsored car wash. When they arrive together, all activity ceases, and everyone stares. That reaffirms she made the right decision. After some competition between the various cliques for amount of money raised, a water fight breaks out. All of a sudden, Bretts arms are around Alexis.... and she runs. Thank goodness for best friends!
This book is more or less about Alexis going back and forth in her head about having a relationship with Brett. He does things that make her feel like she is special, and they would be perfect together, and then he does something completely opposite and she withdraws. It was an interesting give and take. Sometimes, I got frustrated with Alexis, but then Brett would do something and I was rooting for her completely, even though my heart was shipping them in a huge way. The dynamics between these two are hilarious, and swoon-worthy, and frustrating.... I loved every minute of it.
The growth that Alexis shows is also something that captured my attention. I love that she is starting to realize that she can still do good for the underdogs, without having to be a total B*. She really starts to grow in this book, and I very much enjoy watching her transformation. She is still this snarky, b* of a girl, but she also is learning about compassion. She deals with a lot in this story from her enemy, Summer, and she learns what betrayal feels like. She also goes through some really intense, scary situations, and everything works together to build her character and make her even more wonderful as an MC.
As for the other relationships in the story, Alexis and her sister Taylor are still not what you would call close. But towards the end, there is a big change in the sisters relationship that I can't wait to see play out. And Lexi and her BFF's are still such an odd trio, but I adore them.
Crista McHugh took a chance towards the end of the book, and I give her mad props for it. I think there are already a lot of life lessons wrapped up in this series, if you pay attention. But with this sequel, she brought something incredibly serious to the forefront, and I applaud her for it. It added some meat to the series, and I hope that continues on into book 3!
Okay, okay.. I know I have rambled for long enough. Just let me say one more thing. Well, two more. First, read this series! Give it a chance. If it isn't for you, that's alright. But I think it might just surprise a lot of people! And two, thank you so much to Rockstar PR for letting me be a part of this tour. Bring on Queen B* and the Homecoming King!
About the Author...
Crista McHugh is a NEW YORK TIMES and USA TODAY BESTSELLING author of fantasy and romance with heroines who are smart, sexy, and anything but ordinary.
She currently lives in the Audi-filled suburbs of Seattle with her husband and two children, maintaining her alter ego of mild-mannered physician by day while she continues to pursue writing on nights and weekends.
Just for laughs, here are some of the jobs she's had in the past to pay the bills: barista, bartender, sommelier, stagehand, actress, morgue attendant, and autopsy assistant.
And she's also a recovering LARPer, (she blames it on her crazy college days).
Giveaway...



a Rafflecopter giveaway