Jaime Reviews ~ Public Enemies (Immortal Game #2) by Ann Aguirre
Published on August 4, 2015
Published by Feiwel & Friends
Source: Around the World ARC Tours
In Book 2 of the Immortal Game trilogy, Edie must learn the rules of the game . . . and then play better than anyone else.

Through a Faustian bargain, Edie Kramer has been pulled into the dangerous world of the Immortal Game, where belief makes your nightmares real. Hungry for sport, fears-made-flesh are always raising the stakes. To them, human lives are less than nothing, just pieces on a board.

Because of her boyfriend Kian's sacrifice, she's operating under the mysterious Harbinger's aegis, but his patronage could prove as fatal as the opposition. Raw from deepest loss, she's terrified over the deal Kian made for her. Though her very public enemies keep sending foot soldiers--mercenary monsters committed to her destruction--she's not the one playing under a doom clock. Kian has six months...unless Edie can save him. And this is a game she can't bear to lose.
Check out Book 1 of the Immortal Game Trilogy!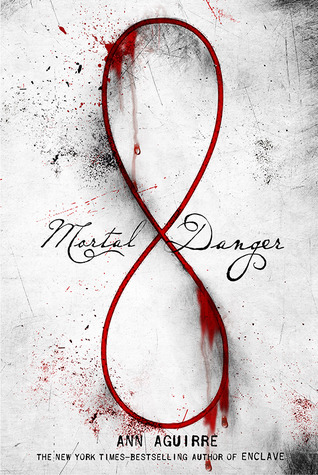 My Thoughts!
First off, I want to say thank you to Around the World ARC Tours for sending me an ARC of Public Enemies for review. So, thank you to AtWAT! I will do my best not to spoil anything for Mortal Danger in my review.
When I originally heard about Mortal Danger, I knew I would have to get my hands on it. And I did, as soon as I could. I started reading, and I didn't stop until I was finished. I loved the story, the intricacies of the plot, and the different players of the Game. It did have its issues though. Mainly in the form of the main character, Edie. I liked her most of the time, but she definitely wasn't my favorite part of the story. However, despite my issues, I was eager to read Public Enemies. I am so glad that I did, because man...
This book is just NUTS. Completely, balls to the wall nutso. And I loved every minute of it. It starts off after Edie has used her final wish, and her emotions are all over the place. She is in a dark place, and I can't say that I blame her. Now, her world revolves around the Game, and saving herself and the only people she has left from the same fate that befell her mother. She meets lots of new players in the game, namely the Harbinger. The Harbinger is one of the most well-written characters I have come across in a while, and I loved him even when I hated him. He was relate-able in some weird ways, he was so twisty and dark and yet he had heart. By far, he was one of the best elements in this book. The romance is still here in book 2, and it is a lot less... weird. I saw the connection with her and Kian in this one, and understood her deep desire to fight for him. And Kian completely redeemed himself for me. I kinda loved him this go round!
As I said, we meet a lot of new characters in this book, but it is never easy to tell who is trust-worthy, and who is lying through their teeth. Edie makes some surprising allies, and some big enemies. She suffers huge loss, but she gains something that made me like her so much more in book 2. She gets SMART, she gets ANGRY. She still has fear, but she doesn't let it hold her back. I was hugely impressed with the character development in Public Enemies, from Edie to The Harbinger.
The story is incredibly fast-paced, and it takes so many twists and turns, and throws surprises at you left and right. When I absolutely had to put the book down, I was wondering what I was jumping back into when I could pick it up again.
All in all, Public Enemies was a FANTASTIC read. There were some head-scratching parts, but I couldn't stop reading. From about 3/4 of the way through, my jaw was dropping and I admit to some tears. I cannot wait to see what happens in book 3. If Ann Aguirre takes this story where I think she might be taking this story, we are in for an epic conclusion to this series. And I cannot wait!
I would absolutely recommend this book, but not to everyone. If you didn't like the weirdness of book 1, then I don't believe you will like this one. IF you aren't a fan of darker stories, with a lot of unhappy, I might wait and see what people say about the final book in the series. Bit if you are like me, and like darker, twisted tales, absolutely check out this series! It is 100% all its own!