Spelled by Betsy Schow Tour Review & Giveaway ~ By Jaime!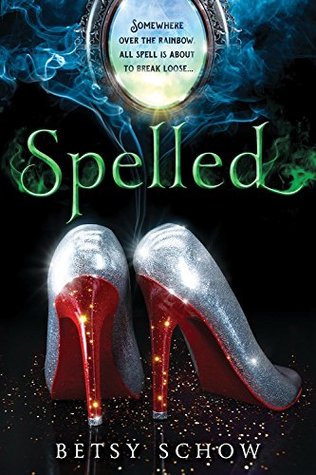 Spelled
by
Betsy Schow
Publisher: Sourcebooks Fire
Release Date: June 2nd 2015
Rate:
4 Stars!
Synopsis:
Fairy Tale Survival Rule #32: If you find yourself at the mercy of a wicked witch, sing a romantic ballad and wait for your Prince Charming to save the day.
Yeah, no thanks. Dorthea is completely princed out. Sure being the crown princess of Emerald has its perks—like Glenda Original ball gowns and Hans Christian Louboutin heels. But a forced marriage to the brooding prince Kato is so not what Dorthea had in mind for her enchanted future.
Talk about unhappily ever after.
Trying to fix her prince problem by wishing on a (cursed) star royally backfires, leaving the kingdom in chaos and her parents stuck in some place called "Kansas." Now it's up to Dorthea and her pixed off prince to find the mysterious Wizard of Oz and undo the curse...before it releases the wickedest witch of all and spells The End for the world of Story.
This is a prime example of the cover had me at hello, and completely lived up to my expectations. I absolutely adored everything about this story. Every little in and out, every fairy tale mentioned, every character we meet. It is full of heart, laughter and adventure. I am so glad that I was chosen to be a part of this tour!
The Emerald Princess, Dorthea is a spoiled brat, but she is full of heart and spunk, and quirk and sass. I loved her, even when she was driving me crazy with her hoity-toityness. After a wish gone wrong, her whole world changes, and she has to go on the run with a condescending, but truth-speaking prince, Kato and a servant girl who was recently a frog, Rexi, who doesn't like Dot very much and has NO trouble letting it be known.
With flying vacuums, weird stick creatures, a woman with a rather large collection of heads and a Bad Witch named Griz after her, and promising everyone something if they catch her, Dot and gang are in for the flight and fight of their lives. From the moment the vacuum explodes and Kato, the chimaera version starts eating everything, throughout all of their ill-fated and hilarious adventures, Spelled kept me, well.... enspelled!
I loved this book. It is the perfect book for a day when you just want something FUN, full of heart and laughter and maybe a little bit of love. I don't know if we will have a book 2, but I am hoping against hope that it is in the cards. I know I am not talking a lot of details in my review, but trust me when I say that you want to experience this one for the first time on your own. Anything that I can say, and I want to say a lot, would spoil it!
I have absolutely no problem at all recommending this book to EVERYONE. But be warned, if silliness isn't your thing, or if over-the-top makes you snarky, Spelled might not be for you. Otherwise, pick Spelled up at your earliest convenience. I don't think you will regret it!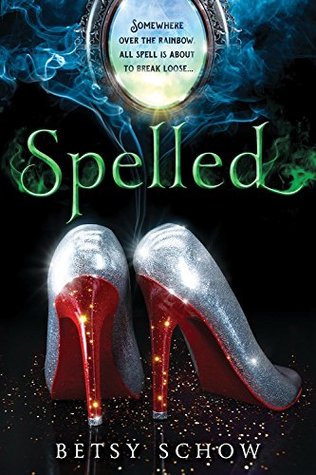 Follow the
Spelled by Betsy Schow
Blog Tour and don't miss anything! Click on the banner to see the tour schedule.
BETSY SCHOW is the TODAY Show featured author of the non-fiction book, Finished Being Fat; however she's been mixing up real life and fantasy for as long as she can remember. If someone were to ask about her rundown truck, she's 100% positive that mechanical gremlins muck up her engine. And the only reason her house is dirty is because the dust bunnies have gone on strike. She lives in Utah with her own knight in geeky armor and their two princesses (that can totally shapeshift into little beasts). When not writing, she acts as the Tournament Director for Odyssey of the Mind and helps teach kids creative thinking (or how to turn their toasters into robots).
Her debut novel, Spelled, comes out June 2015 from Sourcebooks. She is represented by Michelle Witte, Mansion Street Literary Agency.
INTERNATIONAL
a Rafflecopter giveaway