PANDEMIC Book Blitz

Here at The Best Books Ever, we're helping to celebrate the publication anniversary of Yvonne Ventresca's contemporary disaster novel, PANDEMIC!
Check out the book below and be sure to enter the amazing giveaway!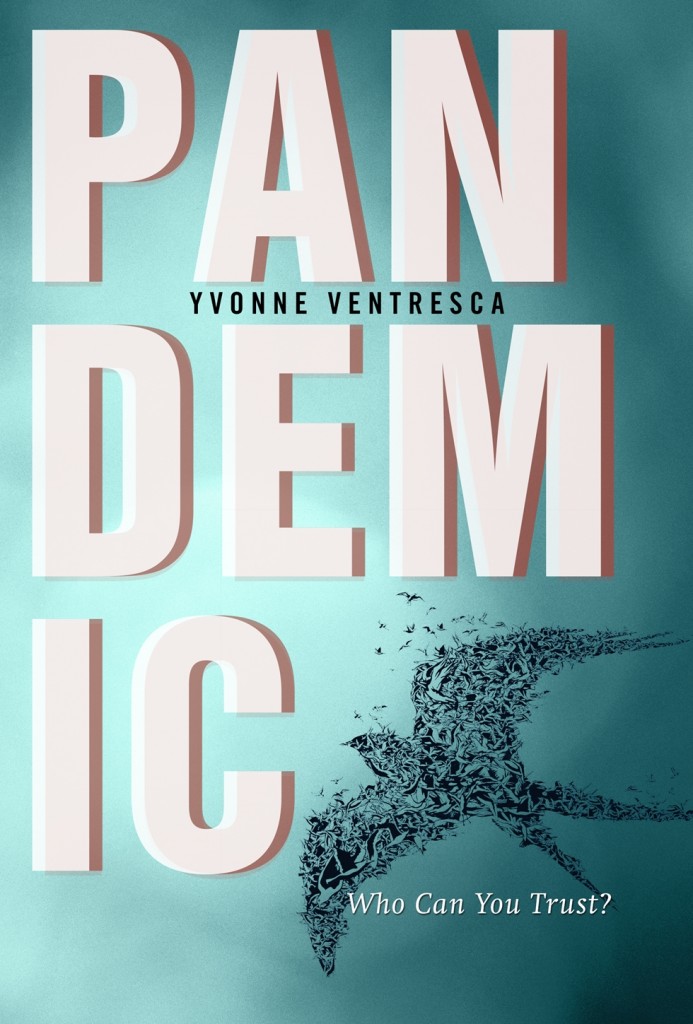 Even under the most normal circumstances, high school can be a painful and confusing time. Unfortunately, Lilianna's circumstances are anything but normal. Only a few people know what caused her sudden change from model student to the withdrawn pessimist she has become, but her situation isn't about to get any better. When people begin coming down with a quick-spreading illness that doctors are unable to treat, Lil's worst fears are realized. With her parents called away on business before the contagious outbreak-her father in Delaware covering the early stages of the disease and her mother in Hong Kong and unable to get a flight back to New Jersey-Lil's town is hit by what soon becomes a widespread illness and fatal disaster. Now, she's more alone than she's been since the "incident" at her school months ago.
With friends and neighbors dying all around her, Lil does everything she can just to survive. But as the disease rages on, so does an unexpected tension as Lil is torn between an old ex and a new romantic interest. Just when it all seems too much, the cause of her original trauma shows up at her door. In this thrilling debut from author Yvonne Ventresca, Lil must find a way to survive not only the outbreak and its real-life consequences, but also her own personal demons.
Excerpt from PANDEMIC
Note from the author:
This excerpt is from the opening of
Pandemic
. The main character, Lil, is going through a difficult time even before the bird flu strikes her town. In this first scene, I wanted to hint at some of her troubles during her interaction with Jay.
I stood on the smoking corner behind school reveling in my aloneness. Not many smokers had the same schedule, which made the corner the perfect place for solitude. We always stayed a foot off the high school property, near the big oak tree, and since we were allowed to leave during last period study hall, we weren't technically breaking any rules.
As if rules mattered.
"Hey, got a light?" Jay Martinez asked, interrupting the quiet. In the fall, he'd moved from Arizona to live with his aunt down the block from my house.
I handed him my half-smoked cigarette. Cupping the burning ember, he used it to light his own. He didn't fit in with the other smokers, but then neither did I. My black clothes, basic ponytail, and minimal makeup placed me in my own category. Maybe Lazy Goth. But the nice thing about smokers was that they didn't exclude anyone.
"Thanks." Jay passed my cigarette back to me. "Is New Jersey always this cold in April?"
Being the new guy at school made Jay the flavor of the month with the other sophomore girls. They craved him in a nauseating kind of way. He was dark, tall, and lanky, and tended to over-communicate. Totally not my type. Now he ruined my aloneness with weather chatter. I shrugged so he'd get the idea that I wasn't in a talking mood.
"Ethan was hoping to run into you," he said.
Another shrug. I'd managed to avoid my ex for months. No reason to change the pattern now.
"So . . . do you have Robertson for bio?" he asked.
I nodded. Jay definitely wasn't taking the hint.
"What are you doing your report on?"
"Emerging diseases," I said, finally giving up on staying silent.
"Cheerful stuff."
The school projects I chose did favor the dark this semester. American history report? The decision to drop the bomb. English book talk? A collection of Edgar Allan Poe's stories. Thematically, Ebola hemorrhagic fever fit right in.
"What are you writing about?" I flicked the accumulated ashes. "Lung cancer?"
He smiled. "The biology of taste. I write restaurant reviews on my blog and that was the closest topic I could think of. Do you like eating at restaurants?"
Leaning slightly forward, he held eye contact a little too long for me. Was he flirting? Nervous, I pulled my sweater tighter around me and crossed my arms. A flirtatious guy was the absolute last thing I needed in my life. No boyfriends, no coy conversations for me. Not anymore.
Jay's unanswered question stayed suspended in the air along with the smoke ring I blew.
"Dinner? I don't get out much," I said, stubbing my cigarette into a sand-filled can another smoker had left behind. "I have to go."
"See you around."
Maybe I read too much into the conversation, but his eyes seemed to question: You need to leave so soon?
It was all I could do to keep myself from breaking into a run.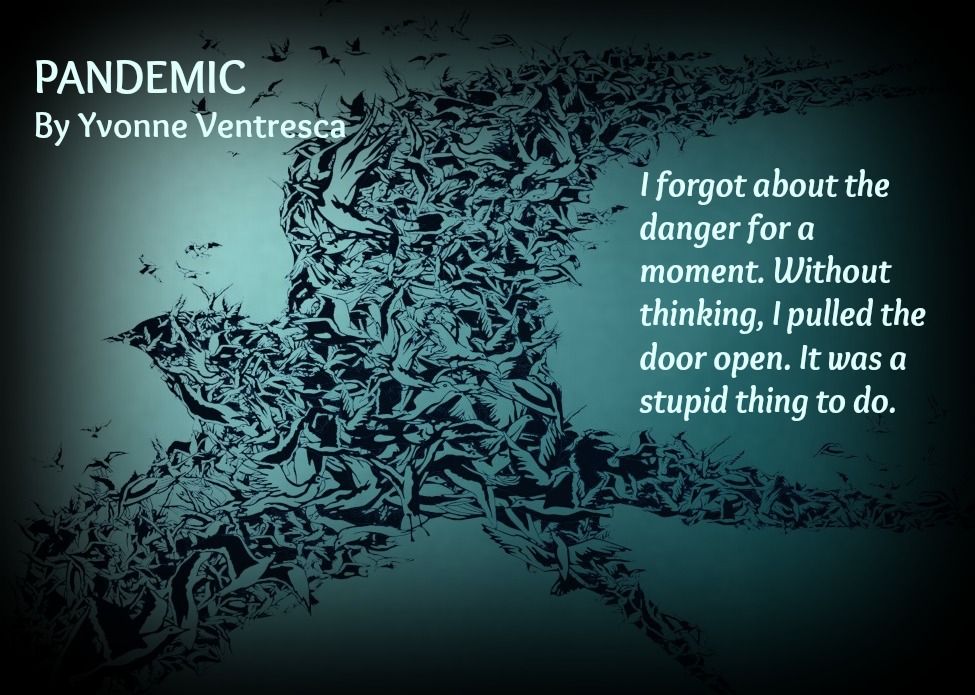 About the Author
Yvonne Ventresca is the author of PANDEMIC (Sky Pony Press, 2014), a young adult novel about an emotionally traumatized teenager struggling to survive a deadly bird flu outbreak. School Library Journal called PANDEMIC "an engrossing apocalyptic story" and Kirkus Reviews said "this realistic page-turner will keep most readers enthralled." Yvonne's other writing credits include two nonfiction books for teens, AVRIL LAVIGNE (a biography of the singer) and PUBLISHING (about careers in the field).
Giveaway
Winner will receive a signed hard cover of PANDEMIC, a $75 VISA gift card, and a limited edition necklace (mentioned in the story!).


***Any entrants using fake or contest only social profiles to enter will be disqualified.***