The Fault in Our Stars Movie Review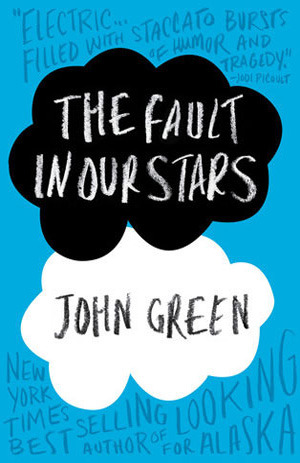 The Fault in Our Stars Movie Review
Released June 6, 2014
Synopsis from the book (Goodreads):
Despite the tumor-shrinking medical miracle that has bought her a few years, Hazel has never been anything but terminal, her final chapter inscribed upon diagnosis. But when a gorgeous plot twist named Augustus Waters suddenly appears at Cancer Kid Support Group, Hazel's story is about to be completely rewritten.
The Fault in Our Stars was released in early 2012, and from the moment that I heard about it I have refused to read it. From that very first time hearing about the book, I started hearing readers thoughts on the book, and was told time and time again that I needed to just "read the darn book already, Jaime" and "You will not regret it, I promise you". Despite all of the recommendations and the promises made, I stuck with my decision to stay far, far away from this book. Let me explain a little.... I had no doubt that John Green had written an amazing story. How could I, what with all of the raving surrounding his stories? Also, not because I wasn't curious or interested in the story. My reason for staying away is incredibly personal, and it is one that I have yet to share. I am choosing to share it now, because I want to let y'all know how big of an impact the movie had on me. My first love, true honest love, was this amazing guy, David. He was everything that I had hoped for at the age of 16, and we were perfect together for 2 years. He had leukemia. It was in remission for the first year and a half of our relationship, but then it came back with a vengeance, and it took him from me. Books like TFiOS hit very close to home, even now, 14 years later. I take them personally, and I am incredibly hard on them. They have to be perfection, if I choose to read them. But, I rarely do because, pardon my language, it hurts like hell. Still.
BUT, my best friend in the world (who has also never read the book) talked me into going to see the movie a couple of weeks ago. I am still not quite sure how that happened, but I love her so I did it. And I am.... so very glad that I did. It has taken me this long to even begin to fathom what I wanted to say about this movie. I know that I cannot do it justice, but I sure as heck am going to try. Y'all know what the story is all about, so I am just going to give my thoughts on it and spare you the details that you already know. Here goes:
I was genuinely scared about this movie starting, sitting there chatting with my friend and laughing. In the back of my mind, I was nervous. And then it started, and I was drawn in immediately by Shailene Woodley, who makes an excellent Hazel Grace. I loved the strength that she showed, even from the beginning. I loved that she knew she was sick, and knew her limitations, but still lived. I loved that she was kind of hard, but had this awesome sarcastic sense of humor. "Take Pot" is a classic! Her parents were wonderful, and their portrayal of parents with a sick child was top-notch. I could not have asked for better actors or acting. We laughed out loud at the Cancer Kid Support Group leader and his songs, and the Heart of Jesus rug. And then, the best thing about the movie showed up on that screen. Augustus "Gus" Waters. That boy is amazing. He was genuinely perfect in every imperfect way. The characters in this movie made this movie what it is.
I love how protective Gus is of Hazel, but he never stops letting her be and do what she needs to do. Walking up the steps in the Anne Frank house was one of the strongest scenes in the movie. Her determination, despite the difficulties, was a beautiful thing to watch. I loved watching her confront the author about being an ass. Their first date at the fancy restaurant, and Gus admitting how he feels to her. I loved Gus and Isaac's friendship, and how Hazel Grace immediately stepped in as his friend, too. I loved everything about this movie. But what I will remember always is when Gus gets sick, and the fight leaves him for a little while. How he loses that part of him that makes him Gus. But Hazel Grace brings him back, and he fights to get back to himself. And throughout all of it, him going downhill and them both knowing they don't have much time together, they love each other. They pick each other up, and hold each other tight and fight for one when they can't fight themselves. I loved the ending of this movie, when Hazel Grace reads the end of the story. And the final scene in the movie was the most perfect I have seen. "Okay"
I will admit right now, I cried. I cried hard. My heart broke all over again, and I hurt for days after watching this movie. I thought about David. I thought about being so strong even when his body wasn't, and how much he loved me and held me up, when he couldn't hold himself up. I was there, though, so he didn't have to. But one thing that I never did was ridicule this story. I didn't once, in my head, think that it was so unrealistic or get angry at the portrayal of something. I just loved it. It was a perfect love story, even though it may not seem like it. It was beautiful. It was perfect. And all of those fans of John Green, who say he can do no wrong? As far as this story is concerned, they were right. And I think I am finally ready to read this book.