15 Day Book Blogger Challenge: Day 6: Buyin' some books!
The 15 Day Book Blogger Challenge is hosted over at
Good Books and Good Wine
. Today, we're talking about how we shop for books!
Sarah says...
If I'm shopping online, it's easy: it's usually something specific, and something I need in a short amount of time (like books for book club), or things that I've pre-ordered because I don't know if my local store will have it and/or I don't think I'll have time to go pick it up. I like to try to split my book buying 50/50 between online and real-world, with real-world book shopping dedicated to more random, spur of the moment purchases.
As someone who can't seem to go into a bookstore without coming out with a few books, you'd be right if you assumed that I had pretty much no plan whatsoever for buying things. But here are a few things that I look for when shopping in a real world book store.
Am I there looking for something specific? Then go and grab it! That way I can't walk out of the store without remembering to buy what I came for. After that (or if I come in not looking for anything in specific) I basically just roam around to see what I can see. My local indie book store has lots of staff recommendations -- little summaries/brief reviews -- taped up next to select books on the shelves, and I've bought tons of books just based off of those recommendations. I usually make sure to hit up the YA and Sci-Fi/Fantasy sections first, followed by walking around the rest of the store to see what catches my fancy. I only let myself buy what I can carry, since I'm usually either on foot or on public transportation, so once I have to start juggling books to keep from dropping them, I know I need to be done.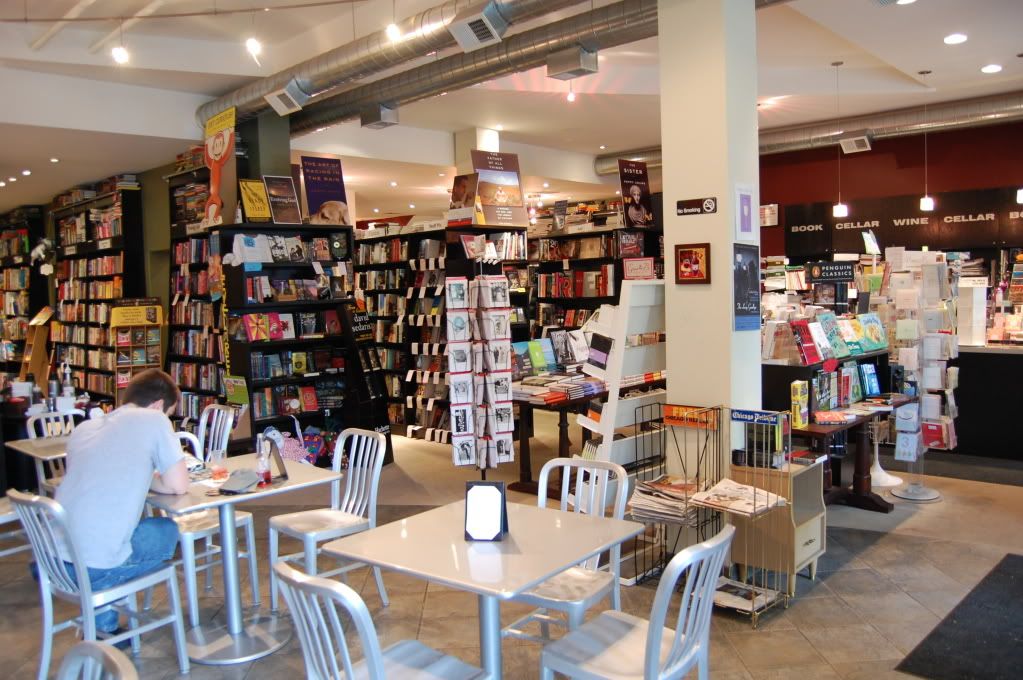 I also buy a lot of books that would be good writer's references for Things I Write on the Internet, aka fan fiction, stop judging me. So a spin through History, for books on WWII lady pilots and spies, or general non-fiction for books on art forgery and thieves and con-men, is almost always in order. Once, I bought a guide on preparing for modern warfare; the book's aimed at people in the military who are maybe deploying, I guess, but I wanted it as a reference in case I ever have to write about soldiers and war and such.
If you're ever in Chicago, make sure to visit
The Book Cellar
, my neighborhood store, pictured above. (You can even
go inside it on Google maps
!) And if you're ever in Minneapolis, visit
Wild Rumpus
, which is a book store that specializes in Children's/YA books. They also have
a store chicken
. And store cats. And a store lizard. And more. It's amazing.