Best Book Ever: Best Children's Book Ever!
Welcome to Best Book Ever here at Short and Sweet Reviews! Coranne's taking a bit of time off, so this is Sarah navigating you through a collection of favorites today. This week, we will be taking a few steps back in time from YA fiction and going even younger, to talk about our favorite children's books.
One of the best children's books ever is Flat Stanley by Jeff Brown. If you don't know the story, the way I remember it is one night a bulletin board above Stanley's bed falls on him while he's sleeping. When he wakes up, he's flat! His family is surprised, but they quickly adapt to his new configuration, and it turns out that being flat has its perks. Stanley can now be flown like a kite! It's easy for him to slip between the bars of a sewer grate to retrieve his mother's fallen wedding ring. And he can be mailed across the world in a large envelope (with a sandwich) to visit his pen pal. I love that something so outlandish as being squashed, with no serious consequences, is accepted so readily; this is Looney Tunes cartoon physics, fantasy at its purest. I don't think they even take him to the emergency room, and it isn't considered bad parenting at all to stuff your flat son into an envelope and trust him to the United States Postal Service. Flat Stanley has such a simple and enjoyable premise, and it lends itself to so many possibilities, I think kids enjoy imagining what they would do if they were flat. I did, anyway.
It's a credit to the author that when I read this as a very young kid that I had no idea it originally had been written in 1964, not that I was concerned with such things—it's one of those timeless books that appeal to kids of many ages and generations with very little updating, though I believe the original illustrations have been replaced. As beloved as this book was for me, I somehow had no idea that there were other stories in the series; I'd occasionally tell people about the first one as this obscure book from my childhood, without realizing that it was actually a major cultural phenomenon. Just look up "the Flat Stanley Project" and you'll see what I mean. I might be reading too much into this, but I think Stanley's kind of a metaphor for books: He's basically become as thin as a page from a book himself, and each page offers an exciting or startling new adventure. I think we can all relate to that. I keep meaning to read the rest of the series, and I've just had an idea for a YA story exploring how Stanley's flatness might have gone over in his high school years…
E.C. Myers, debut author of Fair Coin (2012 Prometheus Books)
I love, love, love Wrinkle in Time... but I already picked that for best Science Fiction. So, instead I'm going to choose When You Reach Me -- because it has Wrinkle in Time in it. Okay, that's not REALLY why I'm picking it; When You Reach Me is a fabulous book. But I will admit that I first picked it up because someone told me it had fun allusions to Wrinkle In Time. (Sidenote: they are VERY fun to read side-by-side).
I love the way Rebecca Stead reveals her story in When You Reach Me. It is truly unique and so intelligently done -- the four mysterious notes that Miranda receives and the way that so many seemingly random elements end up being interwoven in the end. And on top of the brilliance of her plot, Stead's characters are so real, so human and flawed, and the ways that they interact and relate to each other are spot on. I still can't read Miranda's first note without getting shivers: I am coming to save your friend's life, and my own. I must ask two favors...
Tiffany Schmidt
, debut author of Send Me a Sign (2012 by Walker- Bloomsbury)
Okay so my favourite childrens book would have to be WHISPER by Alyson Noel. It's the 4th book in the Riley Bloom series. In all honesty, I have loved them all and it was hard to pick one over the other. I rated them all 5 stars. So what was it that made me pick this one? The fact that I loved the whole premise for the story. The Gladiator that Riley had to try and help move on? Fantastic!! I won't spoil the book for any of you that haven't read it yet but WOW - truly loved it!! If you haven't yet read the Riley Bloom books, you don't know what you are missing!!

Keren @ Gothic Angel Book Reviews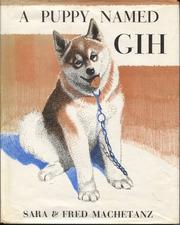 I read an obscene number of books as a kid, but when asked which one was my favourite, there's no question ever. A Puppy Named Gih is a book that's been with me for what feels like forever so much so that my mom and I still make references to it. It tells the story of a litter of puppies born in the great white north destined to be sled dogs and their journey from start to cohesive team. The illustrations are signs of their era, not sleek and cartoony, but with dogs and people that actually look like dogs. What stands the test of time with this one, though, is the timeless story and showing exactly where enough motivation can put you in this world. The message to never, ever stop doing what your heart knows you should even when people doubt you.

Reg
I don't care that this is technically a Middle Grade book, technically a Sci-Fi book. I would recommend The True Meaning of Smekday by Adam Rex to anyone. Even my mother. Twelve year old Gratuity Tucci is assigned an essay on what Smekday means to her, and she looks back on two years ago when aliens named the Boov invaded Earth, stole her mother, relocated the entire population to Arizona and when she met an alien named J.Lo who became her friend and helped her rid the planet of his species.

Sounds like another dystopian YA novel, right? WRONG. The True Meaning of Smekday is full of heartwarming hilarity that can only be delivered by a kid. The entire story is told in the sassy, but childish, voice of Gratuity, with assistance by J.Lo in the ancient storytelling form of his people -- comics. The story is laugh out loud funny, but also contains true, human moments that remind you how scary is can be to be a kid sometimes. I'm not doing this book justice, but I really cannot recommend it enough. Give it a shot and you will not be disappointed.
And for my pick...
Not being a parent and not being a real reader of many middle grade or children's books, it took me a little while to come up with one, but I think I have to go with the classic Where The Wild Things Are, by Maurice Sendak. Like E.C. Myers' choice of Flat Stanley, and Reg's choice of A Puppy Named Gih, Where the Wild Things Are is an older book, originally published in 1963, and its story, focusing on the wild imagination of little Max, is timeless. Sendak's illustrations are timeless, and maybe the monsters could be a bit much for the youngest of readers, but the fact that this book has endured for decades might stand as a reminder not to underestimate kids and what they understand or glean from the books they read. Sendak certainly didn't with his book, and there are many, many readers who are the better for it today.
So what is your favorite Children's Book? Please share in the comments below!