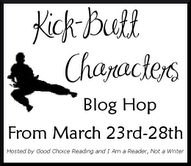 Welcome to Short and Sweet's Stop on the Kick Butt Characters Blog Hop!
We would love if you follow us- next week we will be celebrating our 1 year Blogaversary! We will be having giveaways all week long (some will be International!)
a Rafflecopter giveaway
Hop on to the next giveaway!