Win a $15 dollar Giftcard to Amazon! Spooktacular Giveaway!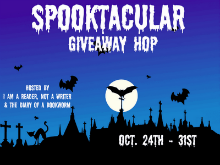 Welcome to the Spooktacular giveaway at Short and Sweet Reviews! We are giving away (1) 15 dollar gift card to Amazon.com- to be emailed to the winner. The only requirement that we have is that you must follow us via GFC. We are pretty cool and you will like us :)
I will be purchasing the gift card through the US Amazon site- so if you are using that, you can enter!
Now that you have entered my contest- feel free to hop along to the other giveaways!
---