In My Mailbox
I won't be around much tomorrow because I am going to see Tony Bennett in concert. So... I present a day early...
In My Mailbox (from Kristi at
The Story Siren
)
For review from the publishers: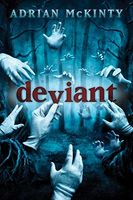 Misfit by Jon Scovron (ARC)
Deviant by Adrian McKinty (ARC)
Summers Crossing by Julia Kagawa
Just for fun:
Fallen by Lauren Kate
Fire Study by Maria Snyder
Crescendo by Becca Fitzpatrick
Eon: Dragoneye Reborn by Allison Goodman
So what did you pick up that was new this week?